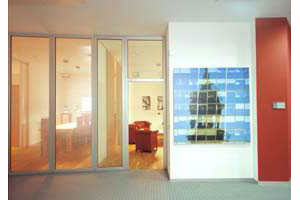 Corinna Rosteck
1968 born in Detmold, Germany
1987 - 1993 BA in Fine Art (painting/photography) University of Art (Hochschule der Künste), Berlin
1992 Advanced Diploma in Printmaking CSM, (Central St. Martin's College), London
1993 - 1994 MA in Fine Art/Photomedia University of Art (Hochschule der Künste), Berlin, under the supervision of Prof. Katharina Sieverding
1998 Teaching Assistant for Advanced Digital Imaging International Center of Photography, New York
2001 Art-in-Construction, Project for Accenture GmbH, Hamburg
2004 "Art-in-Construction" Project, pharmaceutic enterprise B.Braun Melsungen

Corinna Rosteck has been awarded many grants and scholarships and held numerous exhibitions. Her work is acquired by private and public art collectors alike (including Deutsche Bank, New Berlin Art Society, e-on, Allianz….).
The artist lives and works in Berlin.
Room Design: this picture here depicts the Accenture office in Hamburg. In 2001, Corinna Rosteck artistically devised a concept to visually connect the Accenture reception and waiting area with the meeting rooms. Photography marks the areas of communication between these areas. Abstract water reflections and reflections in building facades feature as a main image.